Mac & Lenovo Service
Mac & Lenovo Authorized Service Provider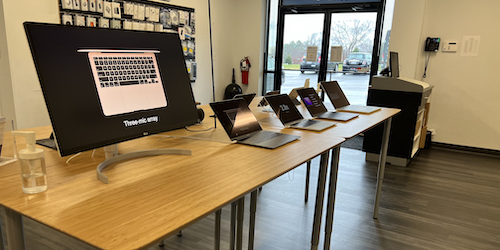 TenPlus Systems provides authorized service and support for in and out of warranty Macs and Lenovo devices.
Appointment are preferred but we do our best to accommodate walk-ins.
You can schedule an appointment on the right side of this screen using the red "book appointment" button.
What to expect during your appointment
Upon check-in, one of our CORE advisors will gather information about you, your computer, and what you are experiencing that you would like resolved.
For out of warranty Mac and Lenovo devices, TenPlus charges a $70 service fee upon check in. This will cover a full inspection, evaluation and diagnostic of the machine.
Our technicians work on computers in the order they arrive. Our service queue is currently same to next business day for inspection and diagnosis.
Contact us
If you have questions, want to check walk in availability, or schedule an appointment, you can call us at (919) 832-5799 (option 2) or email us at core@tenplus.com.