iPhone & iOS Service
Apple Authorized Service Provider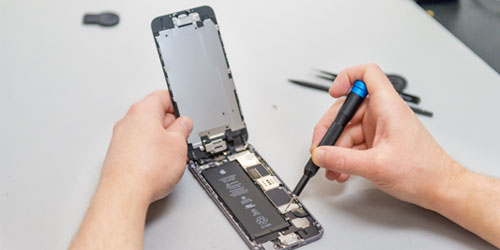 TenPlus Systems provides Apple authorized support for in warranty or out of warranty iPhone, iPad, iPod, Apple Watch, HomePod, AppleTV, AirPods and Beats.
Appointment are preferred but we do our best to accommodate walk-ins.
You can schedule an appointment on the right side of this screen using the red "book appointment" button.
Same Day In-House Repair
Most in house iPhone repairs are completed in about an hour. Whole unit replacements generally take 1-3 business days. Don't worry, if we need to order a replacement part or iPhone, you can keep your device until the replacement arrives.
We use genuine Apple parts to deliver Apple-certified repairs which are backed by Apple. This means you will get your iPhone back working exactly the way it should without voiding your warranty!
Cost
For out of warranty devices, TenPlus charges a $35 service fee upon check in. This covers inspection, evaluation and diagnostics and any labor for repair. If the device needs to be replaced, in most cases the service fee will be applied to the cost of the replacement. The service fee can even be applied toward a new purchase. You can find pricing for replacement devices and iPhone display repairs using the links below:
iPhone / iPad / Apple Watch / AirPods / Beats
Contact Us
If you have questions, want to check walk in availability, or schedule an appointment, you can call us at (919) 832-5799 (option 2) or email us at core@tenplus.com.